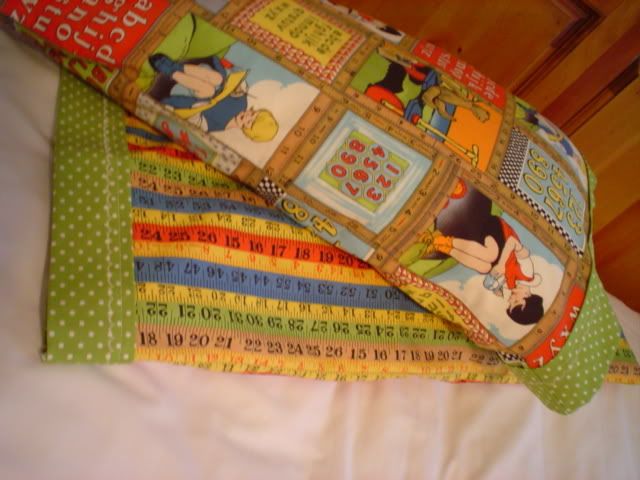 I did these for the girls' teachers. Adi's 5th grade teacher has an old antique bearclaw bathtub in her room full of pillows so I did a set of pillowcases for the reading tub.
I did a wall hanging for Audra's 3rd grade teacher.
It turned out very nice, I wish I had done a lap quilt or throw size quilt for her. This is a Moda fabric. I just love the green polka dots.
Also, my dear SIL, Ruby, and I did this
purple king size quilt for a friend who just got married last weekend. This was our first attempt at strip-quilting as Rub usually does applique and I usually do simple 9 patches and pieced quilts. It was machine stitched in multi-colored pastel daisies. Annie's wedding colors were pastel blue and purple so we picked out those fabrics first. Then we found the matching yellow floral that really pulled it all together. Plus, her favorite color is purple so we chose that for the most dominant color.
We are pretty proud of ourselves. Annie was already showing it off at the reception so I feel that she truly loved her gift.